A célzott rákterápiás szerek okszerűbb kezelést jelentenek a betegséggel szemben
Personalized oncotherapeutic drugs have more targeted effect against tumours
Személyre szabott rákterápia-tumormarkerek diagnosztikája
Personalized cancer therapy - tumor markers diagnostics
Daganat típus

Tumour type

Érintett gének

Affected genes

Célzott terápiás gyógyszer

Targeted therapy drug

Emlőrák

Breast cancer

BRCA1, BRCA2, EGFR, PIK3CA, TP53
Vastagbélrák
Colon cancer
BRAF, EGFR, HRAS, KRAS, NRAS, PIK3CA, TP53
Cetuximab, Panitumumab
Tüdőrák
Lung cancer
BRAF, EGFR, KRAS, PIK3CA, KIT, TP53
Erlotinib, Afatinib, Gefitinib, Osimertinib
Petefészekrák
Ovarian cancer
BRCA1, BRCA2, BRAF, EGFR, KRAS, NRAS, PIK3CA, KIT, TP53
Olaparib
Gyomorrák
Gastric cancer
TP53, PIK3CA, PDGFRA
Imatinib, Sunitinib
Májrák
Hepatic cancer
BRAF, KRAS, PIK3CA, TP53
Prosztatarák
Prostate cancer
PIK3CA, TP53
A vastag- és végbél-, valamint nemkissejtes tüdőtumorok kezelésének jelenleg leghatékonyabb módja az úgynevezett EGFR jelátviteli útvonalat célozza meg annak gátlása által. A célzott terápia hatékonyságának felmérésére elengedhetetlen a KRAS, az NRAS, a BRAF és a PIK3CA gének vizsgálata, hiszen ha ezekben a génekben mutáció található, akkor az EGFR-gátló terápia a daganatsejtekre hatástalan marad, viszont az egész szervezetben előforduló mellékhatások megmaradnak és tovább gyengíthetik a szervezetet. Intézményünkben e vizsgálatok mindegyikét validált CE-IVD diagnosztikai kitekkel végezzük.
Currently, the most efficient treatment of colorectal and non-small cell lung cancers targets the so called EGFR signalling pathway via its inhibition. To assess the efficiency of targeted therapy, it is essential to analyse the KRAS, NRAS, BRAF, and PIK3CA genes, because if these genes contain mutations then the EGFR inhibitor therapy will not affect the tumour cells, but the side effects will remain, further weakening the patient. In our institute, we perform all of these assays using CE-IVD validated diagnostic kits.
A vizsgálatok friss és beágyazott (FFPE) tumorszövetből egyaránt elvégezhetőek.
The assays can be performed using both fresh and embedded (FFPE) tumour tissues.
Szomatikus Tumor Génpanelek
Somatic Tumour Gene Panel
A szomatikus génpanelek segítségével választ kaphatunk arra, hogy milyen DNS mutációk állnak a daganatos betegség hátterében. Ezek a panelek ugyanis olyan géneket tartalmaznak, amelyek gyakran elmutálódnak egy daganat kialakulása során, elősegítve ezáltal annak növekedését és osztódását. A 26 és 48 gént tartalmazó panelek elsősorban olyan géneket vizsgálnak, melyek mutációira már jelenleg is van célzott daganatterápiás gyógyszer. Egy ilyen vizsgálat tehát elősegítheti azt, hogy a daganatos beteg a daganat genetikai profiljára szabott terápiában részesülhessen. A 160 gént tartalmazó panel egy jóval szélesebb spektrumú vizsgálat. Egyrészt magába foglalja a 26-os és a 48-as panel génjeit, másrészt pedig tartalmaz még egyéb olyan géneket is, amelyek fontosak lehetnek egy daganat komplex genetikai profiljának megalkotásában.
The Somatic Tumour Gene Panel helps to identify which genes are mutated in your tumour. These panels include genes that are often mutated during tumour formation thus helping the growth and survival of that given tumour. The 26 or 48 gene panels focus mainly on those genes that are currently targeted in personalized cancer therapy and for the mutations of which drugs are available or will be soon available. Therefore, a Somatic Tumour Gene Panel testing can help shape the tumour therapy according to your personal genetic profile. The 160 gene panel provides much wider screening, which obviously includes the genes from the 26 and 48 panels, and also includes other genes that may be important for the full genetic profile of your tumour and help in predicting the progression of your cancer.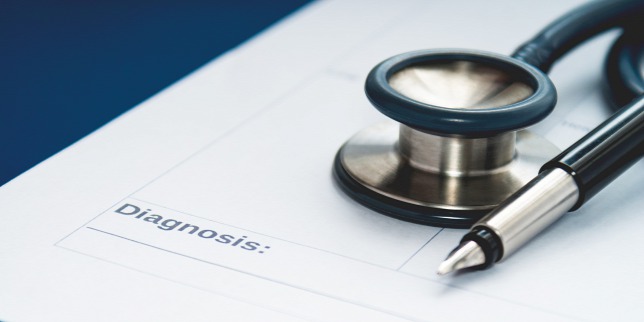 EGFR diagnosztika
EGFR diagnostics
Az EGFR (Epidermal growth factor receptor) egy olyan receptor fehérje, amely a sejtek felszínén található. Ehhez a receptorhoz különböző kis molekulák (elsősorban növekedési faktorok) kapcsolódnak, amelyek a receptor aktiválódását idézik elő. Az aktiválódott receptor jeleket küld a sejt belsejébe, melyek olyan gének aktiválódását eredményezi, amik végső soron sejtosztódáshoz, sejtnövekedéhez, érhálózat fejlődéséhez és áttétképződéshez vezetnek. Számos folyamat vezethet a normálistól eltérő receptor-aktivációhoz. Ezek közé tartozik a receptor túltermelődése, különböző (fent említett) mutációk kialakulása, illetve egyéb mechanizmusok. Az EGFR abnormálisan magas szinten található sokféle típusú rákos sejt felszínén.
EGFR (Epidermal growth factor receptor) is a receptor protein found on the surface of cells. Different small molecules (mainly growth factors) bind to this receptor thus activating it. The activated receptor sends signals into the cell which lead to the activation of genes and, finally, to cell division, cell growth, angiogenesis, and metastasis formation. Several processes can lead to abnormal receptor activation including receptor overproduction, different mutations (mentioned above), and other mechanisms. Abnormal high levels of EGFR can be found on the surface of many types of tumour cells.
Az utóbbi időben számos EGFR gátló anyagot fejlesztettek ki, ami gátolja a jelátviteli útvonalakat megnövelve ezzel a tumoros beteg túlélését. Ezek olyan gyógyszerek, melyek az EGFR receptorhoz kapcsolódnak, ami annak inaktiválódását eredményezi, ez pedig az EGFR jeladás gátlásához, azaz a sejtosztódás, áttétképződés stb. megállásához vezet. Éppen ezért az EGFR gén bizonyos régióinak diagnosztikája elengedhetetlen a megfelelő, hatásos tumorterápia kiválasztásához. Ezek a gyógyszerek nem hatásosak azonban, ha az EGFR jelátviteli útvonal következő tagjaiban (KRAS, NRAS, BRAF, PIK3CA) mutáció található.
Recently, several EGFR inhibitors have been developed that inhibit signalling pathways, improving the survival rates of cancer patients. These medications bind to the EGFR receptor and inactivate it, thus leading to the inhibition of EGFR signalling and halting cell division, metastasis formation, etc. Therefore, the diagnostics of certain regions of the EGFR gene is essential for the selection of an appropriate, efficient tumour therapy. However, these medications are ineffective if a mutation is present in the KRAS, NRAS, BRAF, PIK3CA members of the EGFR signalling pathway.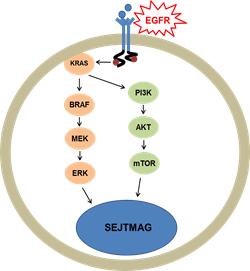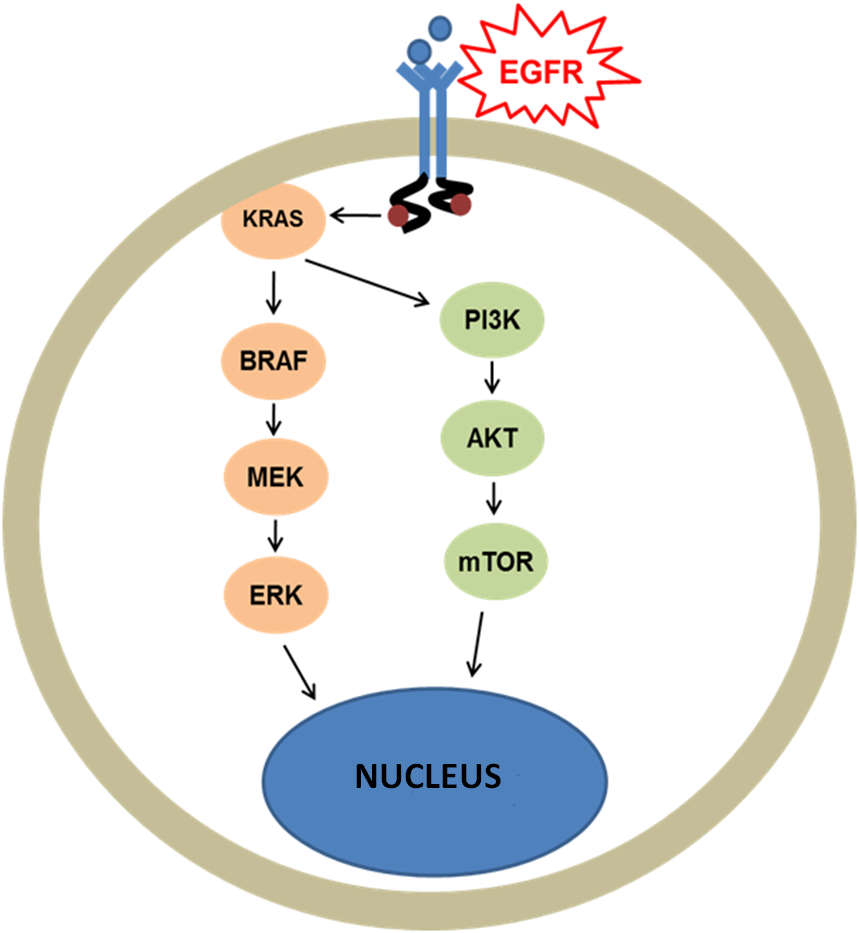 KRAS és NRAS diagnosztika
KRAS and NRAS diagnostics
Jelenleg a vastagbéldaganatok és a nem-kissejtes tüdődaganatok kezelésének leghatékonyabb módja az EGFR jelátviteli útvonalat célozza meg, annak különböző tagjait gátolva. A RAS gének által kódolt fehérjék kulcsszereplői az EGFR jelátviteli útvonalnak, aktiváló mutációjuk jelenléte azonban biztos rezisztenciát jelent az anti-EGFR terápiában. A RAS gének közül a leggyakrabban a KRAS gén mutációi fordulnak elő, ezért ajánlott az összes CRC-s és NSCLC-s beteg rutin tesztelése erre a génre. Amennyiben a KRAS illetve NRAS gén mutáció-mentes, úgy az anti EGFR terápia hatásos lehet.
At present, the most efficient therapy of colorectal cancer (CRC) and non-small cell lung cancer (NSCLC) targets the EGFR signalling pathway by inhibiting its different members. The proteins encoded by the RAS genes are key players in the EGFR signalling pathway, and the presence of activating mutations in them indicates a definite resistance to anti-EGFR therapies. KRAS mutations are the most common among RAS mutations; thus, routine screening of all CRC and NSCLC patients is recommended for this gene. If the KRAS and the NRAS genes are mutation-free, the anti-EGFR therapy can be efficient.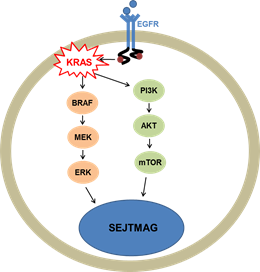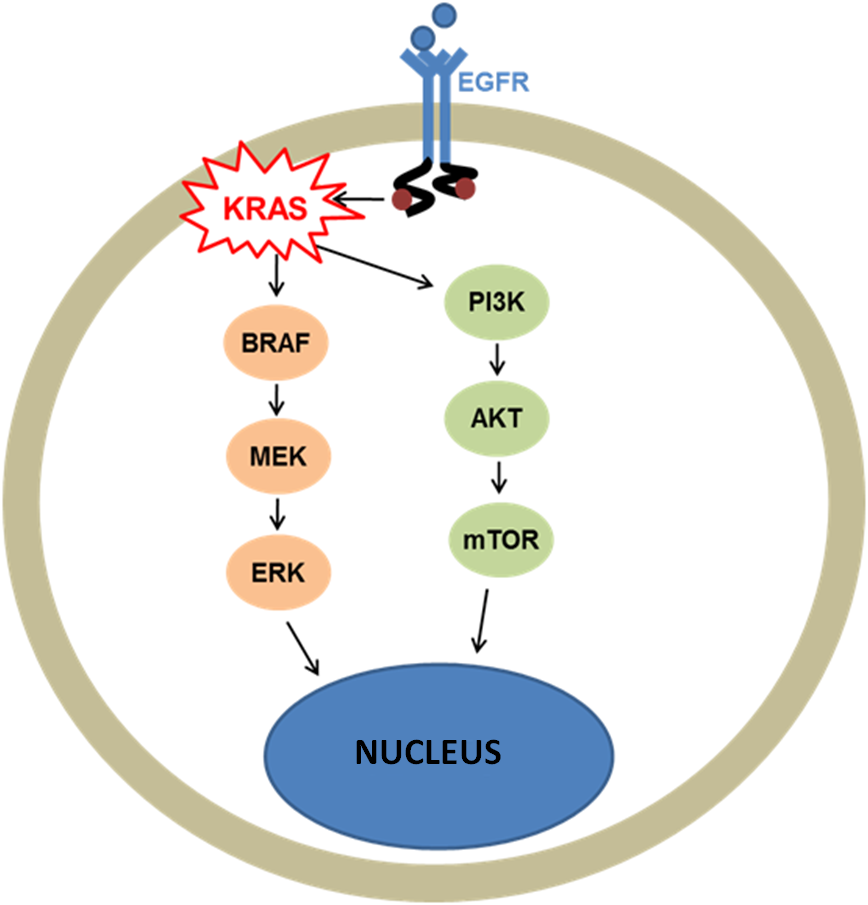 BRAF diagnosztika
BRAF diagnostics
A B-RAF gén szintén az EGFR jelátviteli útvonal tagja, és a daganatok ~7-8%-ban mutáns: melanómák ~45%-ban, pajzsmirigyrákok ~40%-ban, vastagbél daganatok 15%-ban kimutatható a mutációja. Eddig több, mint 100 különböző mutációját írták le ennek a génnek, de a leggyakoribb a 600-as pozícióban található (V600E), ami az összes mutációk több, mint 90%-a. A BRAF V600E mutációja következtében a sejtek növekedési faktortól független, kontrollálatlan növekedése következik be, ezért ennek a jelenlétében hatástalanok maradnak az EGFR-gátló gyógyszerek.
The B-RAF gene, which is also a member of the EGFR signalling pathway, is mutant in about 7-8% of tumours: mutations of this gene can be detected in ~45% of melanomas, ~40% of thyroid cancers, and 15% of colon cancers. Up to now, more than 100 different mutations of this gene have been described, but the most frequent is found in position 600 (V600E), which represents more than 90% of all mutations. Due to the BRAF V600E mutation, cells begin to grow in an uncontrolled way that is independent of the growth factor; thus, in the presence of this mutation EGFR inhibitor medicines are ineffective.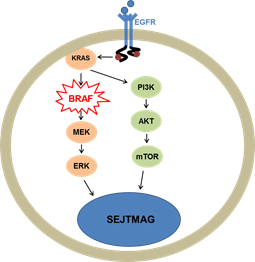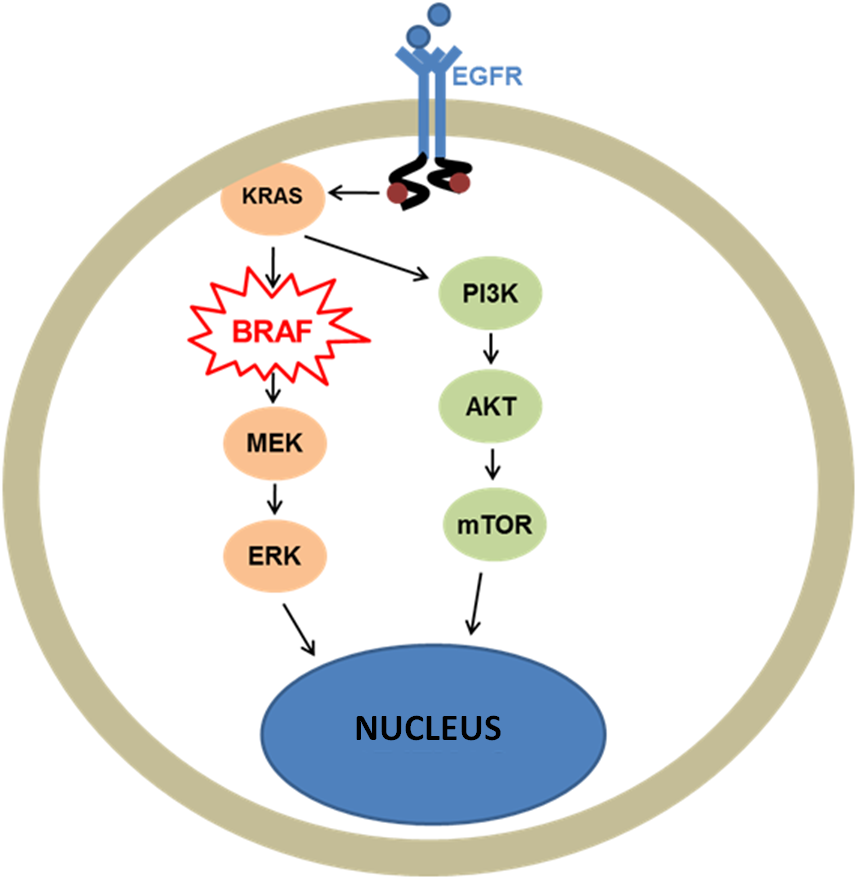 PIK3CA diagnosztika
PIK3CA diagnostics
A PIK3CA nevű gén a foszfatidilinozitol-3-kináz (PI3K) katalitikus alegységét (p110) kódolja. A foszfatidilinozitolok-3-kinázok olyan jelátviteli útvonalak irányításában vesznek részt, amelyek felelősek a sejtek osztódási, túlélési, adhéziós és mozgási folyamataiért. Ezek a folyamatok hibás működésük esetén daganatképződést eredményezhetnek. A hibás működés kiváltó oka lehet többek között a PIK3CA génben bekövetkező aktiváló mutációk egyike, melyek jelenlétét sok daganattípus (vastagbél-, mell-, gyomorrák és bizonyos agytumorok) esetén kimutatták. A PIK3CA mutációs státuszának szintén fontos szerepe lehet a célzott tumorterápiában, mivel a mutáció jelenléte rezisztenciát kölcsönöz az EGFR inhibitorokkal szemben.
The PIK3CA gene encodes for the catalytic subunit (p110) of phosphatidylinositol-3-kinase (PI3K). Phosphatidylinositol-3-kinases participate in the regulation of signalling pathways that are responsible for processes involved in cell division, survival, adhesion, and movement. Improper functioning of these processes may lead to tumour formation. Erroneous functioning may be caused, among others, by an activating mutation in the PIK3CA gene, which has been detected in many types of tumours (colon, gastric, and breast cancer, and certain brain tumours). The PIK3CA mutational status plays an important role in targeted tumour therapy since the presence of the mutation confers resistance to EGFR inhibitors.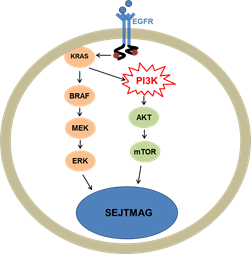 CKIT diagnosztika
CKIT diagnostics
A gén vizsgálata gasztrointesztinális sztróma tumoroknál (GIST), agydaganatoknál (glióma), a májrákok egyik típusánál (hepatocelluláris karcinóma; HCC), a vesesejtes daganatoknál, krónikus mieloid leukémiánál (CML) és a melanomák esetén javasolt.
Analysis of the gene is recommended in cases of gastrointestinal stromal tumours (GIST), brain tumours (glioma), a type of liver cancer (hepatocellular carcinoma; HCC), renal cell carcinoma, chronic myeloid leukaemia (CML), and melanomas.
A KIT-mutáns daganatok hatékonyan kezelhetőek, a célzott terápiához kétféle gyógyszer alkalmazása merülhet fel: a Bcr-Abl tirozin-kináz-gátlók a krónikus mieloid és az akut limfoid leukémia, valamint a GIST-betegek esetében használhatók, egy másik típusú receptor tirozin-kináz-gátlóval pedig azokat a GIST-betegeket lehet kezelni, akik már ellenállóvá váltak a Bcr-Abl tirozin-kináz-gátlóval szemben.
KIT-mutant tumours can be treated efficiently using two types of medicines for targeted therapy: Bcr-Abl tyrosine kinase inhibitors for chronic myeloid and acute lymphoid leukaemia and GIST patients and another type of receptor tyrosine kinase inhibitor to treat those GIST patients who have already become resistant to the Bcr-Abl tyrosine kinase inhibitor.
EGFR panel diagnosztika
EGFR panel diagnostics
Magában foglalja az EGFR, a KRAS, az NRAS, a BRAF és a PIK3CA gének diagnosztikáját.
Includes the analysis of the EGFR, KRAS, NRAS, BRAF, and PIK3CA genes.
Helicobacter pylori clarithromycin rezisztencia-vizsgálat
Helicobacter pylori clarithromycin resistance test
Társadalmakként változó mértékben az emberek gyomrában megtalálható a Helicobacter pylori nevű kórokozó, ami az esetek túlnyomó részében semmilyen problémát nem jelent. Ugyanakkor egyes esetekben idült gyomorgyulladást, gyomorfekélyt okoz, valamint összefüggésbe hozzák a gyomorrák, illetve a gyomornyálkahártyából kiinduló limfóma kialakulásával. Ezért azon betegek esetében, akiknél a kezelő orvos is úgy ítéli meg, tanácsos a baktérium kiirtása, amely egy intenzív és mellékhatásoktól sem mentes antibiotikum és más gyógyszerek kombinációjával valósítható meg. A kezelés azonban nem mindig sikeres, mert a baktérium antibiotikum rezisztenciával rendelkezik, ami csak a kezelés végére válik nyilvánvalóvá. Mindezt azonban meg lehet előzni a szövettani minta további vizsgálatával, ahol a baktérium antibiotikum (clarithromycin) rezisztenciáját egy genetikai vizsgálattal ki lehet mutatni. Ez információt ad az orvos számára, hogy más gyógyszerkombinációval kezdje a kezelést, csökkentve a hatástalan kezelés okozta mellékhatásokat, illetve annak költségeit. A vizsgálat a gyomorbiopsziás minta szövettani vizsgálati blokkjából történik.
To an extent varying according to populations, the pathogen Helicobacter pylori is present in the stomach of people, causing no problem at all in most of the cases. However, in some cases it can cause chronic gastritis, ulcer, and is associated with the development of gastric cancer and gastric mucosa-associated lymphoid tissue (MALT) lymphoma. Therefore, if deemed necessary by the physician, it is recommended to eradicate the bacterium; this is achieved with an intensive therapy - not without side effects - using a combination of antibiotics and other medicines. However, the eradication therapy is not always successful because the bacterium may be resistant to the antibiotic, which becomes evident only after the treatment. Further analysis of the tissue sample can prevent this; the bacterium's antibiotic resistance (clarithromycin) can be detected with a genetic test. This provides information for the physician to use a different combination for the treatment thus avoiding the side effects and costs of an ineffective treatment. The test is performed using the tissue block of the gastric biopsy.
| | | | | | | | |
| --- | --- | --- | --- | --- | --- | --- | --- |
| ABL1 | BUB1B | DDR2 | FGFR2 | IDH2 | MEN1 | PDGFRA | SMARCA4 |
| AKT1 | CARD11 | DICER1 | FGFR3 | IKZF1 | MET | PHF6 | SMARCB1 |
| AKT2 | CBL | DNMT3A | FH | IL6ST | MLH1 | PIK3CA | SMO |
| ALK | CBLB | ECT2L | FLCN | IL7R | MSH2 | PIK3R1 | SPOP |
| AMER1 | CD79A | EGFR | FLT3 | JAK1 | MSH6 | PMS2 | SRC |
| APC | CD79B | EP300 | FUBP1 | JAK2 | MTOR | PPP2R1A | STK11 |
| AR | CDC73 | EPCAM | GATA1 | JAK3 | MUTYH | PRDM1 | SUFU |
| ARID1A | CDH1 | ERBB2 | GATA2 | KDM6A | MYC | PRKAR1A | TERT |
| ARID2 | CDK12 | ERBB3 | GATA3 | KDR | MYD88 | PTCH1 | TNFAIP3 |
| ASXL1 | CDK4 | ERBB4 | GNA11 | KIT | NF1 | PTEN | TNFRSF14 |
| ATM | CDKN2A | ERCC5 | GNAQ | KLF6 | NF2 | PTPN11 | TP53 |
| ATRX | CHEK2 | ESR1 | GNAS | KMT2D | NFE2L2 | RAC1 | TSC1 |
| BAP1 | CIC | EZH2 | GPC3 | KRAS | NFKBIA | RB1 | TSC2 |
| BCL6 | CREBBP | FAM46C | GRIN2A | MAP2K1 | NOTCH1 | RET | TSHR |
| BCOR | CRLF2 | FANCA | H3F3A | MAP2K2 | NOTCH2 | ROS1 | U2AF1 |
| BRAF | CSF1R | FANCD2 | HIST1H3B | MAP2K4 | NPM1 | SDHB | VHL |
| BRCA1 | CTNNB1 | FANCE | HNF1A | MAP3K1 | NRAS | SETD2 | WT1 |
| BRCA2 | CYLD | FAS | HRAS | MAP4K3 | PALB2 | SF3B1 | XPC |
| BRIP1 | DAXX | FBXO11 | HSPH1 | MDM2 | PAX5 | SLC7A8 | ZNF2 |
| BTK | DDB2 | FBXW7 | IDH1 | MED12 | PBRM1 | SMAD4 | ZRSR2 |
| | | | | |
| --- | --- | --- | --- | --- |
| AKT1 | EGFR | GNAS | NRAS | STK11 |
| ALK | ERBB2 | KIT | PDGFRA | TP53 |
| APC | FBXW7 | KRAS | PIK3CA | |
| BRAF | FGFR2 | MAP2k1 | PTEN | |
| CDH1 | FOXL2 | MET | SMAD4 | |
| CTNNB1 | GNAQ | MSH6 | SRC | |
| | | | | |
| --- | --- | --- | --- | --- |
| ABL1 | EGFR | GNAS | MLH1 | RET |
| AKT1 | ERBB2 | HNF1A | MPL | SMAD4 |
| ALK | ERBB4 | HRAS | NOTCH1 | SMARCB1 |
| APC | FBXW7 | IDH1 | NPM1 | SMO |
| ATM | FGFR1 | JAK2 | NRAS | SRC |
| BRAF | FGFR2 | JAK3 | PDGFRA | STK11 |
| CDH1 | FGFR3 | KDR | PIK3CA | TP53 |
| CDKN2A | FLT3 | KIT | PTEN | VHL |
| CSF1R | GNA11 | KRAS | PTPN11 | |
| CTNNB1 | GNAQ | MET | RB1 | |